Working from home has always been a dream for thousands of people spanning a wide variety of professions and industries. In fact, if we go back to popular television in the 1980s, everyone from Mr. Seaver on Growing Pains to Cliff Huxtable in The Cosby Show had a home office located somewhere away from the primary home, and it was likely an ADU.
According to the Public Policy Institute of California, there has been an ADU boom in Northern California with a large number of these coming from ADU builders in San Jose and Santa Clara County. More professionals across Northern California are discovering the many benefits of building an ADU home office, and this article will cover four of the most popular reasons.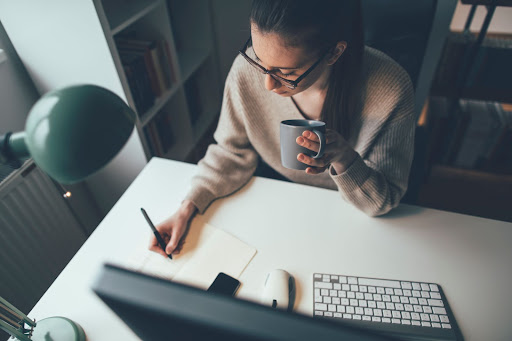 1. Building an ADU for a Home Office Improves Work-Life Balance
When we work from home, we may enjoy the benefit of not having to face a morning commute, but one's work-life balance is almost always corrupted. People usually have a goal to leave the stress from work at the office, but when your office is also your home (or a room in your home) this can be easier said than done. When you build an ADU in your backyard to serve as an office you still have the convenience of "working from home," but because the ADU is a separate structure from the main house, all the hectic energy from work can stay within those walls, and not follow you into the main home.
2. When You Build an ADU for a Home Office, You Improve the Customer/Patient Experience
Whether you are a therapist who treats people for depression, an architect that meets with clients to go over blueprints, or you conduct yoga classes, people always feel awkward walking through someone's living room before reaching a space reserved for professional purposes. People really don't want to see pictures of your family, or kid's toys laying around, or other things that reveal elements of your personal life, and you probably want to keep things at a professional level too. When you build an ADU in your backyard, people will have a direct point of access to the space reserved for professional services, and they won't have to pass through your personal life to get there.
3. Your Family Will Thank You for Building an ADU to Use as a Home Office
If your current home office is a room in your house, then you have likely asked your spouse to make sure laundry and dishes are out of the way, you tell the kids to be quiet and on their best behavior, and the pets likely have to be locked up in a room until your clients leave. In other words, domestic life is put on hold. This can really disrupt work-life balance, and when you are feeling the pressure from family over the constant foot traffic of clients coming in and out of your home, it will take a toll. Building an ADU in the backyard will totally resolve this problem.
4. Work-Life Balance Requires Planning, and Building an ADU Increases Planning Potential
Whether you intend to retire at a certain age, you plan to transition back to an office in a public building, or you plan to change careers in which you will no longer need a home office, one thing will remain: once there is no need for a home office, how will this space be used? This is a dilemma that can cause arguments within the family circle: one of your kids may want it as an upgrade from their current bedroom, but the other children may feel they have a claim to it. Your spouse may have plans for it that conflict with your own, or it may just wind up sitting as an unused space because nobody can agree on how to utilize it.
When you build an ADU home office, once you retire or no longer need to use it as a place for meeting with clients, there are many things it can be used for that can equally add value for all family members. Here are some examples:
Rental Income – When you build an ADU and the day comes when you no longer need it as an office, turn it into a rental property. It will have a full kitchen, bathroom, and sleeping area with storage, so it could be an ideal apartment for someone. You could also rent it out as an Airbnb property. The rental income can go into a pot that can be used for family vacations—something that everyone in the family will equally benefit from.
Family Accommodations – If you are like most families, you love having the grandparents visit from out of town, but you don't appreciate the occupied bathrooms or all the traffic in the kitchen. You can turn the ADU into accommodations for visiting family members, and your immediate family will appreciate their visit while loving the fact that they aren't sacrificing privacy.
Movie Room or Home Theater – What family doesn't like to have a movie night? When you no longer need to use your ADU as an office, you can turn it into a home theater by adding a large screen, a popcorn machine, and some comfy seating. Every member of the family will benefit from the space, and it will help to bring you all together.
Teen-Friendly Space Outside the Home – Let's be honest, there's nothing teenagers love more than a space to call their own. A room they can use to watch TV, play games, and hang out with friends that's all theirs. Turning your empty ADU into a dedicated space for your kids to have fun can take a lot of stress and noise out of your main house while keeping your teens happy and entertained. Put in a few couches and shelves for games, install a TV, and let them decorate the ADU to their heart's content. Not only will you have peace in your home again, but you'll score serious bonus points with your kids, too.
When you have concrete plans on how to use your ADU after its use as office space is no longer needed, you will have less stress in your life, and when you have less stress, your work-life balance will be healthier, making you more productive and happier.
Call Adore Homes for the Best San Jose ADU Builders Around
Adore Homes has years of experience as San Jose ADU builders, enriching the lives of homeowners while increasing the resale value of their property.
Call us today at 650-414-5896 for a free estimate and discover how an ADU can not only be your ideal home office space but how it can improve your family life!